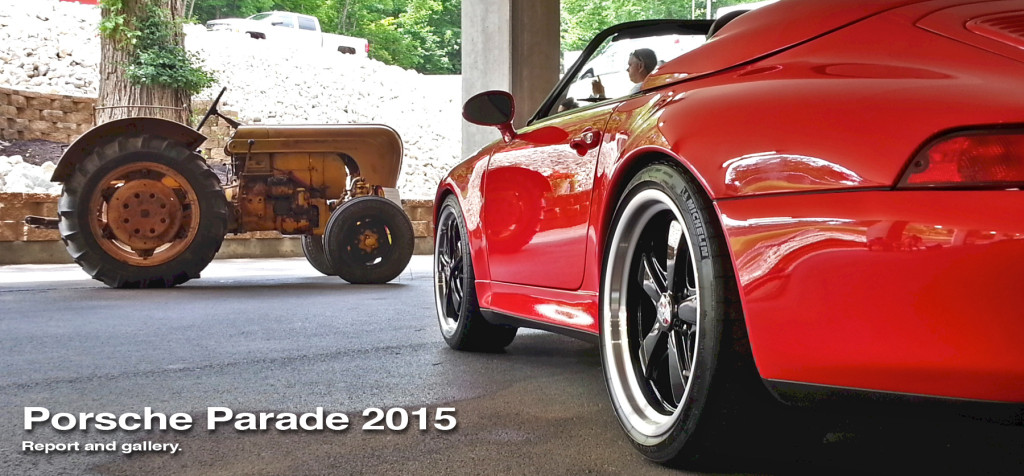 The Porsche Club of America is one of the oldest, largest and most active automotive clubs in the country. Local chapters hold events of some sort for members every month of the year, such as RPM which we reported on earlier this month, but the Porsche Parade is held by the national chapter so always promises to be a big event. This year also happens to be the 60th anniversary of the Porsche Club of America, so for this year's Porsche Parade they selected 60 vehicles from PCA members nation wide, one to represent each year of the PCA's existence. Held in picturesque French Lick Indiana, it was wildly popular and well attended.
Lüfteknic customer Deane P was chosen to represent for the 1969 models with his 1969 Porsche 912, a recent recipient of a complete restoration here at the shop. It was a huge honor for everyone at the shop that the car was selected, and needless to say Senior and the restoration shop crew were very pleased indeed. Additionally Deane was entered in the concours event in the 'restoration' category.
Deane was able to walk away with a 3rd place in 1965-1973 911 and 912 restoration category, a testament to both the vehicle and the owner's preparation as the vehicle sees regular use on the open roads of Virginia. Deane was also honored with a Weissach award for a cumulative score of 292.9 out of 300 possible points in the concours event, and was one of only nine in the event to score 292.7 or higher.
Our heartiest congratulations to Deane for his efforts and result.
We'd also like to give a special thanks and congratulations to the Kissells from Delware, who provided us with the majority of the photos shown. AK Kissell placed first in the 914 Preservation category with his unrestored 1971 Porsche 914, which he achieved with help from his son Arno. Both are Lüfteknic friends and customers and we're pleased to be able to share their Porsche Parade experience through these photos. They also brought their original unrestored Porsche Standard tractor which was displayed along with the more traditional Concours d'Elegance Porsches.
Other notable events included the North American launch of the eagerly anticipated Cayman GT4 and the public unveiling of the new Porsche 911 Club Coupe. The Club Coupe is the celebratory PCA 60th Anniversary limited edition model available only in 'Club Blau' (blue) and is based on the capable 991 911 GTS.
Photos: Kissell Family except where noted.