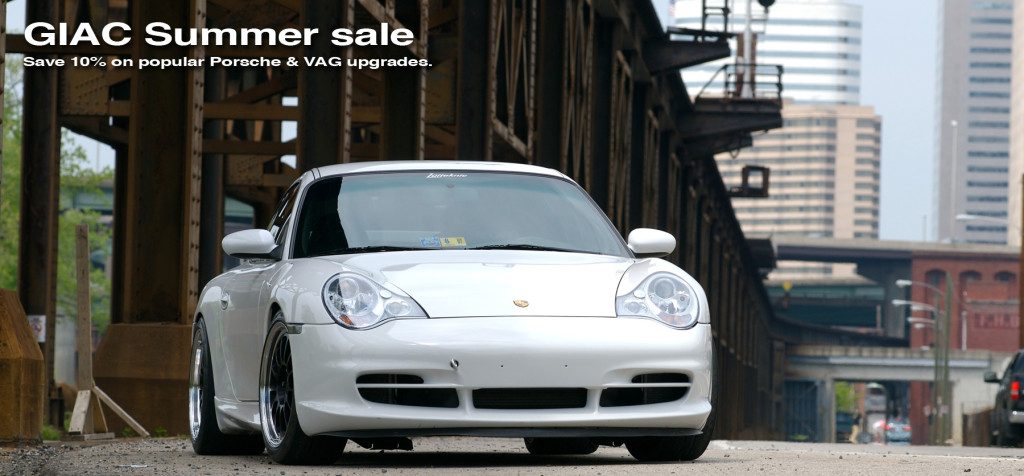 GIAC Summer Specials have arrived! From now through August 31st, 2015 you can save 10-20% off of retail pricing for many* of GIAC's unbeatable software upgrades for VW, Audi and Porsche. Enjoy an increase in horsepower and torque, plus GIAC software offers an improved overall driving experience, with better throttle response, improved part throttle performance and sometimes even an increase in fuel efficiency. Most tunes feature raised rev-limits and higher top-speed limiters for the street and track.
To schedule your GIAC upgrade appointment to take advantage of these great prices simply call us at 1.877.356.2997 or email sales@lufteknic.com. View our GIAC page for more on the GIAC tuning philosophy and why they are the best for your Porsche.
Single program flashes for many VW, Audi and Porsche models are 10% off of regular MSRP. Currently available switching options are discounted by 20% off of MSRP.
Click for full size image
Fully loaded offerings (Audi B8 S4, C7 S6/S7, D4 S8, C7 RS7) are 10% off and still include a GIAC Flashloader Handheld Program Switcher and all available switching modes (unless otherwise noted).
Click for full size image
*Flashloader Handheld Switcher devices are not discounted for the sales promotion. Prices do not include taxes or installation fees, please contact sales@lufteknic.com for scheduling, pricing or other inquiries. Some flashes or upgrades do require ECU removal and there are some additional time and considerations on these vehicles. Please contact us for more info.