Variant 1
Variant 1: KW V1 coilovers offer fixed damping twin-tube low pressure shock absorbers, matched spring rates and a sporty but comfortable ride for most enthusiasts. A great option for those wanting perfect looks with improved handling and performance, without the complexity of adjustable shock absorbers (dampers).
Ideal for daily driver use up to and including occasional track day and autocross duties. 
Variant 2
Variant 2: KW V2 coilovers offer all the same features as their V1 line, but with 1-way rebound-adjustable dampers. Typically top or externally adjustable where available, the V2 KW Suspensions allow for minor adjustments in order to fine tune your Porsche's ride, handling and balance to your liking or suspension set up. Rebound adjustment is set via an easy 16-click stepped range.
The more firm the rebound, the more controlled the body movement of the vehicle, increasing the overall stability along with a more firm, sporty ride.
Variant 3
Variant 3: KW V3 coilovers are their most popular street-compatible competition-influenced systems, offering 2-way bump and rebound adjustable twin-tube shock absorbers. The rebound is again typically top-adjustable via a 16-click stepped range, while bump damping is set via a knob at the bottom of the dampers, via a 12-click stepped range. Born from their Competition and Clubsport models, adjusting the bump damping effects the low-speed range compression of the shock, effecting body roll, while the rebound adjustment continues to effect body movement and stability.
Recommend for more aggressive street and track enthusiasts, the V3 KW coilovers kits will allow you to craft the handling and performance to your exact driving preference and your Porsche's modifications. 
Clubsport
Clubsport: KW Clubsport coilovers are their most aggressive design for track, while still offering performance and function for the street. Developed and proven on the Nordschleife. Clubsport models feature either a 2 or 3-way adjustable shock absorber with increased spring rates and optional 'uniball' solid spherical upper shock mount, for much sharper handling and more tuning range but with a significantly stiffer and more aggressive ride quality. Ideal for the most hardcore autocross and track day enthusiasts who don't mind a rougher ride for the increase in performance and handling.
Kits featuring 2-way adjustable dampers are similar to V3, with 16-click rebound and 12-click low speed bump adjustment. Kits with a 3-way adjustable damper add the additional option of 6-click high-speed and expanded 14-click low-speed bump damping, typically with an external shock reservoir. 
Competition
Competition: KW Competition systems are true racing suspensions, featuring the most advanced technology and function available. Available with either twin-tube 2-way or mono-tube 3-way dampers depending on vehicle and system choices, KW Competition systems are ideal for club racing in PCA, NASA or SCCA, rally championships, IMSA Tudor and Continental championships and Pirelli World Challenge.
All Competition systems are manufactured for each individual application. Lüfteknic is a KW Performance and Motorsport partner for Porsche vehicles. Please contact us for further information on KW Competition systems. 
Street Comfort
Street Comfort: KW Street Comfort systems are designed to offer maximum comfort over long drives and are a true grand-touring option for Porsche cars. All Street Comfort models feature minimal lowering with 16-click adjustable rebound damping and comfort-oriented spring and damper rates.Ultimately these offer the best in comfort and ride quality without compromising on handling and control on the street.
An excellent compromise for those with young families or a more sensitive feel for ride but still want maximum enjoyment from their Porsche.
DDC
DDC: KW DDC (Dynamic Damping Control) suspension systems offer computer-controlled adjustment of suspension settings on the fly, from the driver's seat of your Porsche. Available in two versions: One uses the KW DDC app for adjustment and control of the damping rate choices of Comfort, Sport or Sport+. The second is available as 'plug and play' to integrate into Porsche cars equipped from the factory with PSM  and Sport damping options.
A perfect solution for those wanting maximum performance and ride control with the increased flexibility and performance of a height and damping adjustable KW Suspensions system.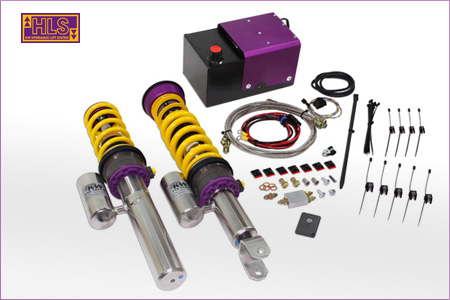 HLS: KW HLS (Hydraulic Lift System) kits offer a temporary increase in ground clearance for Porsche cars, for negotiating road hazards and obstacles such as speed bumps, construction zones, driveway ramps, parking garage entrances and other obstacles. HLS 2 kits offer front axle lift, while HLS 4 offers lift of both the front and rear axles. Available for most popular KW coil over suspensions and as a retro-fit kit for some factory suspensions, the KW HLS offers up to 45mm of additional ground clearance via a hydraulic cylinder installed between the coilover spring and spring adjustment perch.
Activation is via an in-car control or remote, and can be used at speeds up to 50mph. A very popular addition for Porsche GT2, GT3 and GT3 RS cars.